Import/Export customs clearance
Customs clearance agency services in factories or at ports
Document preparation services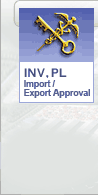 Import/Export agency services (Foreign currency transfer services included)
Agency services for sales/ purchase with Chinese counterparts (CNY transactions included)
Document preparation services
Import Customs/ VAT advancement payment agency services


We undertake customs clearance services for shippers abroad or shippers who cannot reach the designated locations.

Our import/export and trading agency services performed by using our import/export licensure make direct businesses with Chinese counterparts available. Meanwhile, we handle foreign currency transfers and CNY transactions.

By performing customs clearance in bulk within the designated time period , customs clearance upon individual shipments can be omitted.
*Note: Approval from customs office is required.